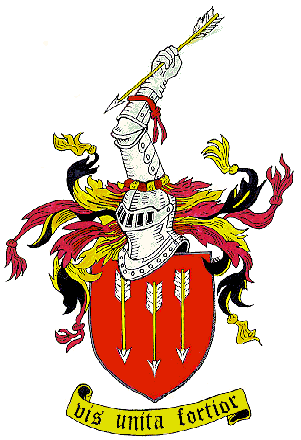 This site is dedicated to the collection of histories and developing of friendships. It is primarily focused on families with the surname HALES, and any related spellings.
The Hales Family History Society was started in 1970 by Kenneth Glyn Hales, In that year, Ken collected names and addresses from eight shelves of phone books at the UC Berkely campus. He then sent an introductory letter to over 1200 people. Over the next several years, newsletters were prepared, printed, and mailed to over 2000 subscribers, sharing research and stories. Ken also published books and articles relating to his own family line.
Today, with the advent of the internet, newsletters are obsolete. It is also not necessary to ask for a membership fee to offset mailing and materials costs. We can make this information available free, for all to share.
The Hales motto, shown in latin on the Hales coat of arms above, is vis unita fortior. Translated, it means united force is stronger. We welcome you to the Hales family site. We are happy to share the information we have. We invite you to unite with us, and to contribute any information or stories you may have.